Exhibition und Event
URBAN NATION – Artmile
To support the grand opening of the URBAN NATION Museum for Urban Contemporary Art in Berlin-Schöneberg, an Art Mile was created under the viaduct of the railway tracks between the Nollendorfplatz and Bülowstraße underground stations. For one weekend, 13,000 visitors enjoyed an immersive art exhibition with site-specific artworks, a pop-up skate park, graffiti workshops, a street food market and numerous performances.
Artist
1UP, 210, 2510, Ben Frost, Bordalo ll, Borondo, Bustart, Blek Le Rat, Care, Cranio, David De La Mano, Deih XLF, Don John, Faith XLVll, Haroshi, Herakut, Hot Tea, Icy & Cot, Inka Kendzia, Isaac Cordal, James Bullough, Jaz, Juxtapoz, Louis Masai, Ludo, Mademoiselle Maurice, Manthe Ribane, Mimi S., Nespoon, Olek, Pixel Pancho, Ron English, Seth Globepainter, Sten and Lex, Tankpetrol, Various & Gould, Vhils, Woes, Yok & Sheryo, Zezão

Curator
Andrew Hosner, Charlotte Dutoit (Justkids), Jonathan Levine, Maria Bortoluzzi and Marcello Pimentel (Instagrafite), Roland Henry, Steven P. Harrington and Jaime Rojo (Brooklyn Street Art), Yasha Young
Project Management
Production
Art Handling
Artist Management
Place
URBAN NATION, Berlin
Deih XLF and David de la Mano (f.l.)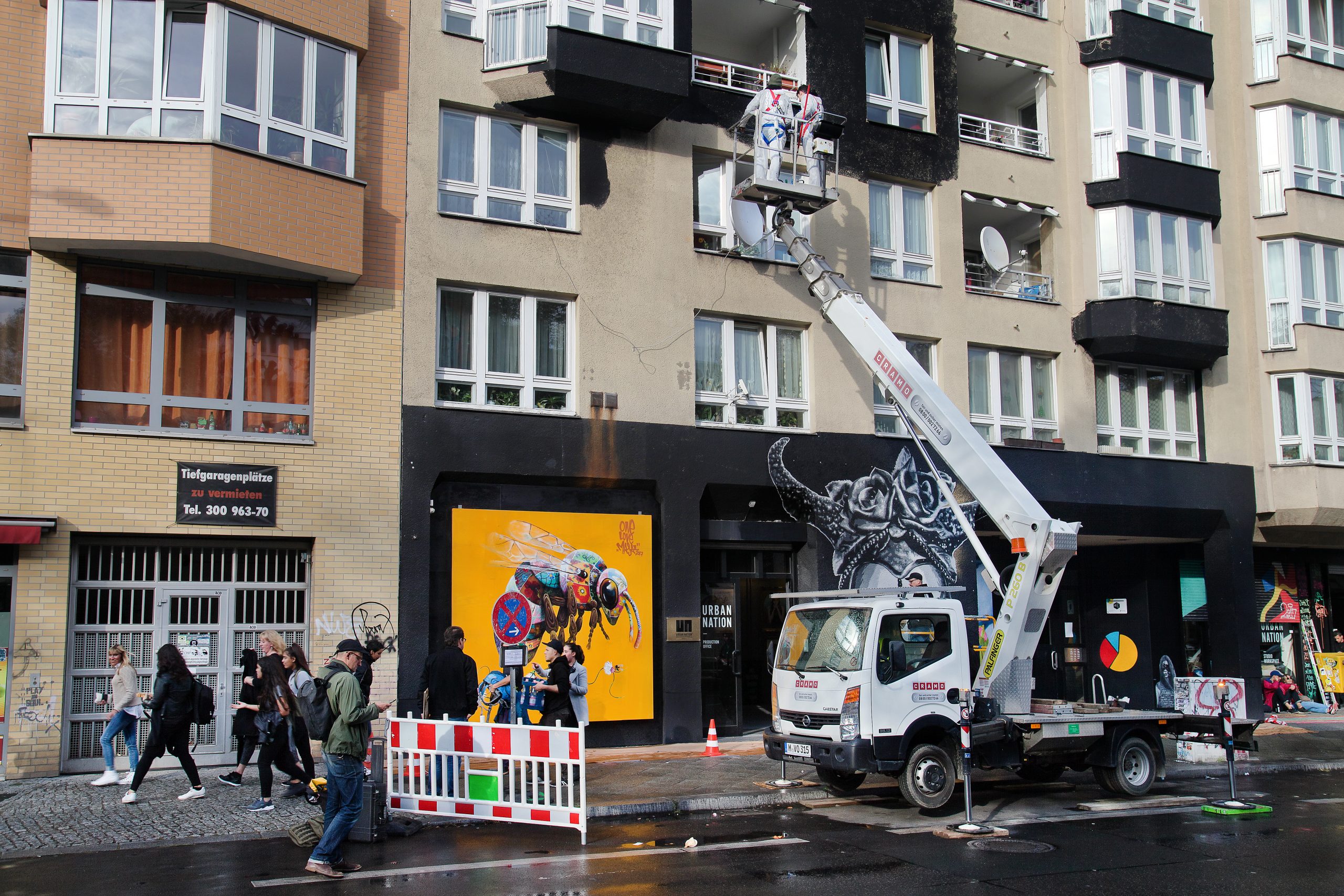 NeSpoon paints the facade of the URBAN NATION Gallery.